Old 2022 | A Brief Retrospective
Last edited - 2023/01/08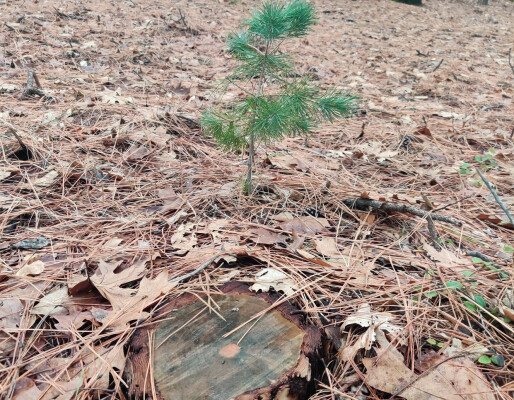 old tree, new tree
If I were to use a scorecard from when I was 25 to judge 2022, the year was pretty rough. I didn't travel anywhere new, get through many books, or even go to a live music event. It was fairly disasterous for my personal savings and I spent much of the year just trying to clean up after a brutal snowstorm from the final days of 2021. But I became a father so my scorecard has changed. 2022 has been the best year in a long time for me. I won't drone on about parenthood, I'll just say that I've been able to spend an incredible amount of time with my son and I couldn't be happier about it. So here I'll try to list some of the things I've done this year bearing in mind that it's been a year much unlike any I've had before.
Top Activity
Learned How To Parent: I'd never been around babies before. I'd never changed a diaper, fed a baby or even been around one for more than an hour or so. When my son was born, my wife and I got to learn everything-- taking advantage of our generous work leaves to get to know the little dude and usher in the start of our family. It was not easy or all fun. It sucked a lot and both my wife and I needed to drastically change our behaviors and attitudes. This was coming to terms with the fact that I'd probably not see another year like 2021 (let alone 2014-2018) for a long time. It's baby time. But having a cute little dude made up for it; especially when he grew old enough to be more interactive.
Yard Projects
My homesteader project of the year was learning how to raise chickens. While there's not a whole lot to chicken husbandry, I raised four silkie chicks, learning about DIY chick housing and then about the importance of securing your birds from predators. Two of the silkies and an adopted Rhode Island Red made it to laying-age and have been laying daily. I've grown comfortable with catching, picking them up, cleaning their coop, and taking care of them. They are currently vacactioning at my parents house pending some soundproofing upgrades to the coop at my house. Baby + chicken squawking is not conducive to healthy sleep cycles.
I Took up birding and tried to take advantage of all of the time I had to spend at home by meeting the local flora and fauna. I started the year with a sleep schedule that woke me up around 5am each morning so I got in the habit of taking breakfast outside and enjoying the first few rays of sun. Once my son was old enough to sit up, he loved to go outside with me and play in the dirt and leaves. Following a short birding walk with the local Audubon chapter, I started becoming more conscious of the avian friends around me-- their patterns of feathers and sounds. I can now identify by call: Stellar's jays, California scrub-jays, mourning doves, robins, crows vs ravens, red-shouldered hawks, anna's hummingbirds, acorn woodpeckers, spotted towhees, and mountain chickadees. I added 35 birds to my lifelist in Merlin and began mental preparations for a bird-friendly water feature on the property. Fell in love with Wingspan.
I spent an unreasonable amount of time cleaning up after the winter storm that occurred in December of the following year. My father and I sawed down a tree that was on the roof, sawed up a number of huge oak limbs near the house, and spent time fixing the railings on the porch. I learned a lot about charcoal production in the process of trying to burn away all of the green waste. But I also learned that oak logs make great mushroom substrate. Unfortunately, I don't really like eating mushrooms that much.
As part of wildfire preparation, I laid gravel around the house and garages. The main intention here was to keep weeds down around the house but the blue-ish stone I laid on top looks pretty nice when edged with the natural clay stones from the property. I just need more clay stones. Due to some supply chain issues with the quarries this year I was unable to get any flagstone to continue the raised garden repair work in the front yard. Instead I took the opportunity to pick weeds and try to encourage new growth on the plants that are there.
With some effort, I pulled out a half-acre of invasive scotch broom. When I moved in, I loved the bright yellow color of the flowers as I walked up to the property but I learned how invasive and flammable they are. I also learned how much of a pain in the ass they are to pull out of the ground. In this second year of effort I was able to remove enough to see clear through to the driveway, however it also showed me that there's another layer of invasive plant, the everlasting pea. Both these plants can stay on my property as long as they fucking chill out!
Coming to grips with the reality of living in wildfire territory, I ended up doing a lot of land clearing. Some of it was intentional: trimming branches, thinning trees; some of it was unintentional: lost a half-dozen full-grown Ponderosa pines to bark beetles. Hoping that the late year drenching allows the pines to recover from their drought state. On the positive side, I've greatly developed my understanding of tree-felling, chainsaw operation, and log-splitting. I reused some logs to hold in gravel and manage erosion controls, but a decent amount remains in the forms of rounds. I was able to donate about 10 truck-loads of logs to locals for home-heating and I hope to donate another 30 in the coming year.
Using a DIY book and some lath boards, I built a trellis. I made it incredibly rickety and it's now missing much of the cross-beams after a heavy snow, but I learned a lot and practiced my woodcraft (amateur). It's trying to hold up a mock orange while allowing passage along the path to the shed. It does its job but goddamn does the mock orange want to crush the little trellis!
In the vein of gardening, I built two new raised beds. These became the new home of a number of strawberry and raspberry transplants. Despite a late planting, I got a few strawberries this year. In the world of vegetables it was a little less favorable. Tomatoes and peppers (Hungarian more so than jalapenos this year) once again did well. I learned the importance of starting seeds indoors and the agony of late frosts. I learned that some beds are shade beds and vegetables do not like shade beds. The chickens informed me that they love potatoes to death. My snap peas got a fungus and my attempt at growing autumn crops was thwarted by hungry squirrels(?). Also, next time I try to grow carrots I promise that I will suck it up and thin them. Tiny carrots are no fun. I learned how to make plum jam but my tendency to eat plums off the tree meant I only had enough jam to last a month. What a month it was though.
For several months of the year I was able to water my plants by hand with collected rain water. I took things up a notch and installed 400 gallons of rain catchment capacity. It was already overflowing by November, but that's a good thing. Rather than hand-watering plants, I'd like to take advantage of the existing drip irrigation system and build a water tower at the top of my property that I can pump water up to and use to gravity-feed the beds.
I went to a number of permaculture demonstrations hosted by local farmers in the area. While much of the information was for professional farmers, the lessons on composting, charcoal, pruning, solarization, and crop rotation are still fresh-of-mind. It was also at one of these classes that I met a kind, elder hippie couple who invited me to their home a few times, shared plant starts with me, and offered me a work-study opportunity. While I couldn't accept due to parental obligations, I am grateful for their generosity and glad that I met them.
Organization
I sorted all of my tools and hardware (temporarily). After spending countless hours sorting the many jars of garage sale screws and fasteners by length into a little organizer, I was finally able to reliably pull out the hardware I needed when I needed it. The pegboard I installed in the garage is often empty of the tools that properly belong there but at least I now have the option to be clean!
I spent time rearranging my office. Getting a properly-sized desk and taking better advantage of the space in the room has been a significant mood booster given I spend 40+ hours a week in here. I've got to enjoy the dedicated office while I can because it's going to be some kid's bedroom given enough time.
I spent time helping my parents move in. In addition to helping them get their house in order and cleaned up from the storm, I took in dozens of boxes of junk from my childhood and sorted/organized it. This included a massive portion of the Nullbrook archive which remains to be further categorized.
I was able to participate in Home Movie Day at the Nevada Theater. This was an all-day experience of triaging film, preparing them for projection, and then screening. I met some wonderful folks in the trade and was able to share two of the films from the Nullbrook collection. In the garage there's now a binder containing neatly organized instructions on sorting and caring for film. This was also the impetus for me to finally catalog and clean up the film collection I have. With the addition of a 16mm/Super 8 splicer that I was given for Christmas, I'm set up to actually archive what I've collected.
Kid Projects
After my wife spotted a fortuitous Craigslist post, my parents and I painted and assembled a swingset/playhouse. My son is too young for it now, but I hope he enjoys it when he's older. It overlooks my parents yard and has a nice romping area that is filled with woodchips from all of the brush cleanup I did this year and bordered by old railroad ties from the local train museum.
We got my son a Yoto Player though it's been used by the whole family. One of the cool aspects of the service is that it allows for uploading custom playlists with custom 16x16 pixel art icons. Thus, I've spent a number of evenings in Pixelorama and sharing my work on yotoicons.com. I feel that my pixel art skills have improved significantly. Hopefully I can take what I've learned and apply it to my pico8 work-in-progress.
Social/Trips
We received several visits from out-of-town friends. This gave us the opportunity to visit local museums, go on hikes, and break out board games meant for more than just two people. Plus we got to show off the little one.
I learned more about gold panning and used a sluice box for the first time. While I had more fun just playing in the local rivers and looking at wildflowers, it was nice to spend some time with my dad. Also made sure to hit up Red Frog whenever we could.
I finally rode the Amtrak Capital Corridor to go down to the office for the first time in a few years. Despite needing to get up around 4am to make the train, it was fun. While I intended to read a lot, I ended up spending much of the ride just staring out the window. Landscapes just at dawn are always fascinating. I don't know if I'd do it again given I needed to take a bus back to my station on the way home and ended up getting home at 10pm. God knows it was not a productive day, but it was memorable.
The one flight I took this year was to Cincinnati for a friend's wedding. It was nice to have a break and some time to just wander aimlessly around the city in autumn. I don't think I managed to convince anyone to come visit me soon, but it was nice to see folks in person for the first time since I left the city.
Technology
My Mastodon server successfully migrated off the public cloud and into my house. This was thanks in part to moving off a choppy microwave internet connection and part to sufficient perserverence fucking around in BSD configuration. My NAS is in a much better place overall.
After six months of waiting, a battery system was finally installed to complete my home's solar setup. So I spent time getting familiar with my household's power intake and enjoyed eight months of zero-dollar electricity bills. I learned that even when I'm selling 80% of the power back to the grid at peak, I can still survive a midnight power-outage without having to get out of bed to pull out the gas generator.
Books Read
Busy Doing Nothing - a remarkable and down-to-Earth journal of two part-time sailors crossing the Pacific. Reading this during my own personal weather-based disaster gave me some perspective and also some wonderful insight into the practice of sailing. Helps that these people are very cool.
Hard-Boiled Wonderland and the End of the World - I listened to the audiobook while doing chores. The story is wonderfully written piece of science/fantasy literature that screams 1980s. It's also weirdly horny, but I guess that's fine.
Harem: The World Behind the Veil - an in-depth look at courtly life in the Ottoman empire with a particular (and in that way unique) focus on women. It provides a more sober picture of a period of time that is often romanticized or stereo- typed in Western history. As one with only cursory context of Anatolian history, this gave a little more insight and a memorable read.
A Short History Of Byzantium - I wish I had listened to this before reading Harem. It's long, obviously. And this is like an abridged version. I used the countless dynastic feuds and intriques to keep track of how long the Scotch Broom cleanup took.
The Weather Machine - a nice little pop-science book about weather forecasting. It pursued the rather irritating narrative structure of first person travels, but there was still some decent information about the history of forecasting. It gave me some nice dive-off points for more technical understanding. I am much better informed on the weather than I was last year.
Salt: A World History - seriously one of the best books I have read (in this case, heard). It's rare that I will actually turn on an audiobook when I'm not actively working on a mindless yard project, but this riveting, detailed, and thorough discussion of salt from mercantile, culinary, chemical, and historical lens has me searching everywhere for books of a similar caliber on other subjects.
A Sand County Almanac - after a long year of struggling, seemingly with futility, against the elements, this collection of stories from a Wisconsin farmer/naturalist brought me back to why I moved out to the country in the first place. It's poetic without being sappy, conservation-minded without being shrill, and simply wonderful to listen to while working outdoors. I really want to go out fishing in 2023.
The Age of Capital 1848-1875 - I wanted this to be more than a dry retelling of important-people's names and wide brush-stroke descriptions of class strife. I couldn't finish the audiobook.
Vanity Fair - it was not the book I thought it was when I put the audiobook on. But here I am, 60 chapters in and still engrossed. Amongst a sea of non-fiction, it's nice to have a well-written novel on hand.
Lights On: the Science of Power Generation - an apolitical look at power generation. The author goes through an insane amount of devil's advocate to explain the merits and faults of sources of energy as well as the infrastructure that makes it all work. At first I found the not-taking-sides thing to be obnoxious, but I've come to appreciate the author's argument for what investments need to be made for energy security in the future. It has gone along very well with Practical Engineering videos.
Ignition - damn, I love this book. It's funny, it's detailed, it's got all the science. But it's totally over my head and way too much for me to consume in my free time. Maybe if it was about organic chemistry I could get myself to follow along with the chemistry, but for rocket fuel I end up missing many of the jokes. Some day I may return.
Gargantua - there are so many treasures hidden in the dense thicket of in-jokes. Fart jokes are eternal but they do get a little bit tiring. Still, I'm working my way through Pantagruel in search of gold.
Travels of Sir John Mandeville - I spent a long time looking for this book. When I did find a copy, I took pleasure in looking up all of the funny words that I found in the book. The effort of putting these words down started to feel like a chore by the end of the book which took away somewhat from my enjoyment, but it was a delightful romp of fantastic exploration nonetheless with little gems of nonsense sprinkled throughout.
The Earliest English Poems - while I'm usually not too partial on poetry, this one got me going. I love the sound of these bardic works when spoken aloud. Not only were there the heroic poems, but also poems of wanderer-walking-through-ruins-of-ancient-civilization which is a cool almost-sci-fi kind of subject. This book inspired me to write my own comical lay for my son. Here's a small excerpt:

Wrought half stone - half yard was he
so wont to quest - een womb-tied still
departed he - full fed of breast
upon the bitching hour

Ivanhoe (enjoyed via Serial Literature emails) - a retelling of the King John and Robin Hood myths with a fantastic representation of Friar Tuck and just a whole lot of shitting on the Normans. Given I had just gotten to the Norman Conquest in the British History Podcast, this was some wonderful color even if biased by Scott's worldview.
The Island of Doctor Moreau (consumed via Serial Literature emails) - another book where I thought it was actually about something else. Rather than a story of the first men, it was a very lame Dr Frankenstein kind of monster story
Twice Told Tales (enjoyed via Serial Literature emails) - I'm kind of over the ante-Revolutionary New England setting, but some great eerie ghost stories in here
The Odyssey (enjoyed via Serial Literature emails) - I absolutely did not give this read-through the attention it deserved. The prose, even in translation, is unlike anything I've read before. It's dense, to be sure, but also engrossing. I had to keep reminding myself that the timelines don't matter in a work that was assembled by many authors. Despite my quick reading, I gained some more context on Greek mythology especially given my earlier primer from Mythos.
The Big Squirm - I love the Troika! TTRPG universe and this setting fits the atmosphere wonderfully. Even though my physical copy of the book hasn't arrived, I enjoyed reading through the PDF and meeting the strange, squishy, ambitious, chaotic creatures therein.
I also read number of childrens books (aloud) including the entirety of Frog and Toad, Curious George, The Phantom Tollbooth, and a lot of Seuss and Richard Scary
Video Games Played
Given that my schedule became baby schedule this year, my gaming became mostly single-player. Having the fortune to receive my Steam Deck early in the year allowed me to play many of little indie titles that I han't had the chance to dive into yet. While I could probably spend that marginal time of the day reading instead, these games were worth the time.
Stray - tied for game-of-the-year. I was able to play this during my flight to Cincinnati and it's just the perfect, atmospheric exploration game and lives up to its hype. The story is a little hackneyed but I forgive it on behalf of the absolute coziness.
Dwarf Fortress - tied for game-of-the-year. I fell in love with the game in its 2014-version after spending a Christmas break several years back learning all of the keybinds and playing without a mouse. With the graphics overhaul, I couldn't be happier with the experience. I don't have to block out time each session to remember how to do things or hover over every symbol to see what it is. This is a dangerous game that steals hours of time from me-- including delaying the publishing of this blogpost.
Outer Wilds - a laid back, space mystery. If it wasn't so stressful at times I would have totally completed it. Honestly this is one of those games where I'd rather watch a play-through to learn the story rather than have to hit all of the jumps right. Super unique and deserving of the praise it's gotten from reviewers, but not for me.
Hidden Folks - Where's Waldo but a video game. Perfect for short stints of low-thought gaming. I hope to play this again with my son once he's old enough.
Dorfromantik - a beautiful little tile-placement game. The leaderboards make me think some people do nothing but play this all day.
Caves of Qud - in the same vein as Dwarf Fortress, a low-graphics/high-content RPG. I've found it can get pretty repetitive if you are bad (like me) so I'm glad they added a more peaceful mode recently.
Yokus Island Express - this is the first game I played on the Steam Deck and enjoyed the relaxed pinball/puzzle element though it did have its frustrating moments. 7/10
When I had a chance to play multiplayer games with my friends, it was mostly Crusader Kings III, Foxhole, or Golf With Your Friends
Objectives for 2023
Try to avoid overwork - hard to do when working from home and actually enjoying said work. Note to self to take more care to leave work in the office every day.
Journal daily again - it was hard to find things to write about after lockdown and even harder once becoming a parent. I'm trying to make a point to go over the day a little bit even if nothing of particular note happened. I'm still impressed by my great-grand-uncle's meticulous recording of weather and prayers said every day. Hopefully my records are a little more useful.
Write more if possible - my paltry blog output this year stands testament to how little time I spent taking ideas out of my head and putting them down in writing. Not that I particulary get lots of hits on the blog, but it's nice to be able to refer to in conversation when the topic comes up. I've found writing on here helps give some structure to my hobbies. This post, even as rambling as it has been, has succeeded in reminding me all of the work I did in 2022.
Take more walks - once the little dude is of walking age, I hope to take a lot more walks with him. He loves going on walks as is, but once he is a little bit more engaged with nature I think it will help get me out of the house more too even if it's just into the yard.
Grow the Nullbrook Archive - I don't know if I added a single item to the archive in 2022. I hope that I'm able to go out and find large collections of photos or films to scan and take better care to categorize this time!
Projects

Finish cataloging Nullbrook films
Bluebird nesting boxes
Chip/split the remaining slash and rounds
Reseal the deck
Chicken coop rennovation
Fix the fence in the backyard
Build water tower + irrigation system
Birdbath/water feature
If I have time left after all of that to pursue mycology, woodcraft, photography, music production, read books, draw, or dabble in radio well that might just be asking too much of the year. Let's just take it easy in 2023