Some Space To Tend
Last updated - 2021/08/15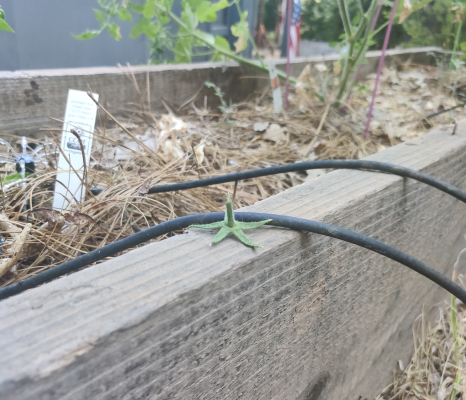 Case of the missing tomato
I woke up this [July] morning to find the little raised bed in my backyard that supports some tomato plants, pepper plants, beans, and corn had been raided. The little top to a tomato was all that remained of a particularly large and mature roma specimen. But I surveyed the damage with a smile. This is the year of my first harvest. From maybe $100 of plants and seeds, the advice of many practiced and unpracticed gardeners, and a couple dozen cool and pleasant mornings, I was able to drink lightly in that sacred draught of cultivation and dream of my plans for next year. And how could I remain mad at the sweet deer who often chew on the St. John's Wart right next to the kitchen window early in the morning? It's I who is the new face here.
Lest I get too wrapped up in the sentiment, this post is about some of the experiences I've had as a first-time landowner attempting some balance of self-reliance and time management without too greatly irritating my wife.
Tomatoes
The property came with two small raised beds that already had metal cone trellises for tomatoes. In early May I picked out a couple roma plants and set them in one of these beds. The spot gets ample sunlight throughout the day and the plants really took off. Where I went wrong was in not providing sufficient fertilizer to them early on. As they grew and began to bear fruit, they developed blossom-end rot. The cases weren't too severe and adding fertilizer as well as harvesting the ripe fruit seemed to help. I found three plants was enough to provide a nice fresh vegetable treat to my diet. I think next year I will grow double that amount in order to have some produce after the growing season.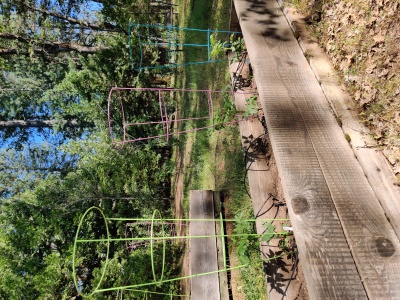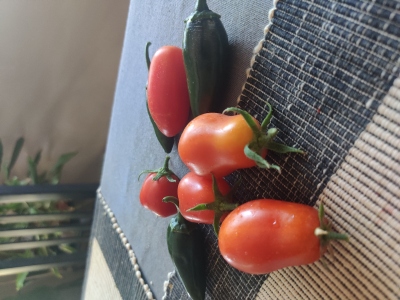 Seasons are crazy
Peppers
My best yields this year have been from a single jalapeno plant. For the past month it has been yielding more than enough peppers for my diet. I found that the peppers were ready to harvest when they either became hard and a dark-green/black color or developed little white streaks on the side. This plant seriously kicks ass, would recommend to anyone in my climate. It's like 5' tall and healthy as can be. The Carolina Reaper I was growing in part shade is still very small (I have since moved it to full sun). The Capperino's fruit have yet to turn red so thus far they remain on the vine. It seems to be popular with ants, but the plant seems to be handling these visitations fine. Finally, I have a habanero-like plant that has grown up as tall as the jalapeno but has only now in late July begun to flower. The deer took a nice bite out of it, but it's bouncing back just fine.
Soybeans
I started out with one little packet of soybeans but my god was it challenging to use them all up! I put most of them in vaguely neat rows in a little bed on the side of the house but the rest I put in little part-shade containers on the porch for experiments. The strongest of the container beans went into a full-sun bed. This unfortunately didn't work out as a scorching heat wave burned them up despite my efforts to put up a bootleg shade-cloth using the translucent wrapping our couch came in. A few of the container beans that survived were replanted into a little bed by the tomatoes and survived a deer attack in which all of their leaves were eaten. Resilient buggers!
Of the soybeans that were planted in a semi-serious manner, many sprouted happily in the haphazard lines that I laid them in. However, I quickly noticed that they wanted something to climb. A cheap metal trellis did the trick. I've been trying to correct their paths so each has their own ladder to climb but they all want to bunch together. Who am I to stop their party. As of early August they are just starting to pop out some seed pods. Maybe I'll make seitan or maybe I'll save the seeds for next year. Either way I'm mostly impressed that they were able to take root and thrive in the natural, acidic dirt in that bed.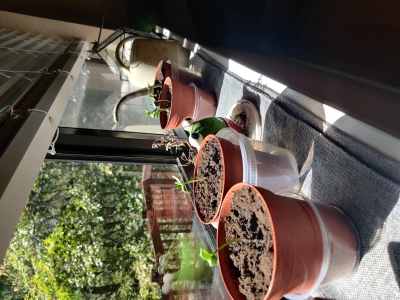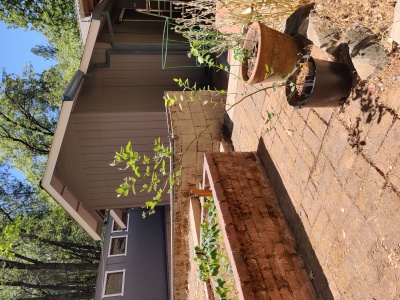 Left: melons that were later replanted, right: blueberry that I'm wating to plant
Replanting
One fortuitous find at a yardsale was a bag of old seeds. It was free, for the family was moving to Bali and just trying to hand out their items to proper custodians. I took this opportunity to begin experiments in growing plants from seed. I'd previously had luck with a nectarine seed which was able to grow it into a nice half-meter-tall plant on the smoggy apartment porch in Oakland. Unfortunately it, like a few other transplants, were wiped out in the early-July heatwave. So, with this generous helping of mixed seeds and the seeds of fruits we'd eaten, I set up a couple of growing stations.
Being not one for research before mucking about in a deeply studied subject like agriculture, I placed some seeds in water and some in soil. For those in small soil containers, some went inside and the rest went outside in either a sunny or part-sun area of the yard. Most of the seeds planted in soil managed to sprout. As expected, the difficult part for me would come when I needed to move them to larger pots or put them in the ground. For context, these trials were going in in the midst of a particularly dry summer. The fruit and vegetable plants are not partial to this. Many casualties were had. The bodies of the fallen now feed the compost pile, one day to find new life.
While I'd say the successful transplants were successful due to some portion of luck, the following guidelines seemed to help. Once again, this is using my sample set of plants: melons, soybeans, pumpkins.
Grow the seeds indoors or in morning sun/part shade.
Water once or twice weekly thoroughly or when the soil is nearly dry.
Replant the plants in a larger container only when they have gotten large enough that you'd estimate the roots are about the depth of the current container.
Try to use at least some amount of the same soil to fill in around the plant when moving it into a bed or native soil
Even with these guidelines, I sometimes had failures due to the heat. I began to move to a daily, targeted watering schedule-- starting early in the morning. I was able to back off once the worst of the heatwave was over.
Fruit trees
This property is blessed with an abundance of mature fruit trees. There are several apples, pears, a plum. One of the young peach trees has decided it would bear two lovely shaped peaches. Time will tell if the local wildlife beats me to it. In the course of thoroughly mapping the yard I discovered there is a young pomegranade and an asian pear tree that's starting to show some fruit.
I had been warned about the nuisance that comes from the falling/rotting fruit. I certainly recalled the annoyance of picking up the rotten/insect-attracting apples from the back yard. Thus far it hasn't been too annoying. I can usually chuck them into the compost pile if they are in a pathway without much trouble. The benefit of having a readily available, delicious, and pesticide-free snack far outweighs any of the concerns of cleaning up after the trees. Nature generally takes care of the fruit that I don't decide to eat. I'm more than happy to share with the ants, birds, and squirrels.
When my parents came out to help us move in, my mother spent a good chunk of her time playing out in the garden. She imparted some suggestions from her grandfather who was apparently a fruit tree whisperer. The following recommended that once a year, outside the heat of the summer or fruiting season:
Remove any dead branches
Prune branches shooting vertically
Remove any branches crossing over other branches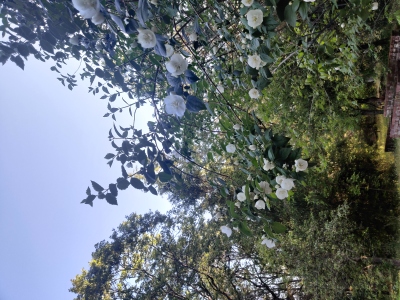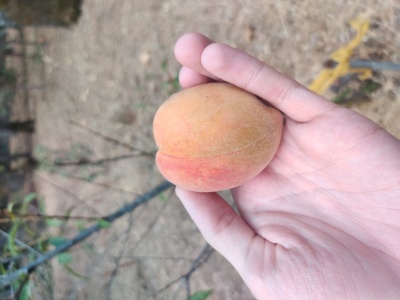 Left: mock orange (ornamental), right: peach (tasty)

Fire preparation/mitigation

The threat of fire in the Sierra Nevadas is real and not going away anytime soon. While I'll likely have a much larger post about this at some point. I just want to share a bit of the work I did to minimize the risk of catestrophic fire damage.

Thus far I've spent dozens of hours trimming low-hanging limbs, felling trees that are too tightly bunched together, and pulling hundreds of Scotch Broom plants and other flammable, invasives. Apparently the original owner of the lot bought 40 cedars at a garage sale. They were likely tiny at the time so in typical human nearsightedness he bunched them like half a meter apart along the fence. Perhaps there was some dream of topiary, but that got quite out of hand. So I've been forced to pick the chosen ones that remain to take advantage of the newly freed-up sunlight.

The yard has lost a bit of the beautifully wild and untamed look as a compromise with my internal realist. This area burns. It has always burned since well before humans arrived. The natural burning of underbrush has been halted by human occupation. Thus, it's the responsibility of the humans to clear the underbrush lest we continue to see the megafires of the 21st century. Thus I go out, night after night, culling flammable bushes-- particularly non-natives-- and tree saplings who are too close to their neighbors. Needless to say, with all of the bunched up saplings around, I'll never go a winter without a Christmas tree.

Mulching and Oak Chopping

One of the major modifications I made to the plant landscape was to remove a large black oak tree from the front yard. This was a difficult decision, for the tree was quite lovely. Maybe a hundred years old, I could just wrap my arms around it. However, it was the main producer of shade on the roof. To maximize solar efficiency, I made the decision to take it out. I don't regret the choice, for while I removed a lovely native habitat, the sky has opened on a large patch of yard that can now house shorter natives.

An added benefit of having felled a large tree is the massive amount of mulch I got out of the deal. As of the summer of 2021, I don't have a woodchipper so the tree contractors kindly leaving behind the chips of oak has allowed me to try my hand at mulching. With a rusty old wheelbarrel, I've been taking loads of mulch/compost to lay around the other trees. Black oaks don't love water, but hopefully they appreciate the weed suppresion.

Irrigation

On the topic of water, most of the western US has been in a severe drought this year. This region usually has dry summers, but it has been particularly hot, draining the mountain ice early in the season. While I've taken advantage of working from home to reduce the number of showers I take (until my wife comments) and using the grey water to dampen the compost pile, much of the garden still needs irrigation throughout the summer.

The goodly previous owners of this property installed a pretty solid drip irrigation system. QThick rubber hose snakes about, forking out into quater inch lines that terminate with emitters. I spent some time making sure each line ended in an emitter and that each emitter actually ended with a living plant. The targets are currently young fruit trees and the raised beds of vegetables. Through water conservation and allowing the lawn to die, I've been able to keep the water bill pretty low.

Weather

Along with the drought came a heatwave in early July. This took a nasty toll on the flora of the yard and encouraged me to invest in a nice weather station. I purchased a Davis Vantage Vue and Console bundle. Combined with a WifiLogger module I've been able to get historical reports of my own microclimate as well as contribute this data to public weather collection systems. My particular favorite has been the Citizen Weather Observer Program which comes out of the ham radio world and thus avoids the trappings of commercialization that are found in others (WeatherLink, WeatherUnderground, etc). What's especially useful about the WifiLogger is that it provides a webserver on the local network so checking the weather no longer requires calls to the public Internet.

One metric that isn't quantified by the Davis machine is air quality. While there's not much one can really do to control billowing smoke from several counties over, it's useful to know when to turn on the recirculating fan. You can smell smoke but like where's the fun in that? Let's get some numbers on it. I picked up an air quality sensor from Purple Air and it has helped me determine whether I should keep the windows open at night. It's not as cool and open source, but it's not as exciting as weather analytics

Planning

Lest I ramble on and on, I'll lead this blog post off with the planning that I've done thus far for the yard and projects that I'd like to start on-- time and weather pemitting.

The property we bought didn't come with a layout plan. While the electrical, gas, and plumbing are well- labelled, it took a lot of wandering about to figure out how everything was placed. Similarly, the yard was a veritable botanical collection with mysterious plants and flowers around each bend. Never having the chance to meet the original planter, I was on my own to figure out what everything was and whether it was supposed to be there (looking at you black locust and scotch broom and sock destroyers).

While I had initially planned to mock everything up virtually, I found that simply trotting about the yard with a clipboard, some graph paper, and a pencil was the most effective at reasoning about the space. In between consultations with books and iNaturalist to determine species I was able to think how I would like each bit of the garden to end up. Some parts I hope to keep fairly natural and native (with ample fire prevention) while others will be home to a more manicured collection.

.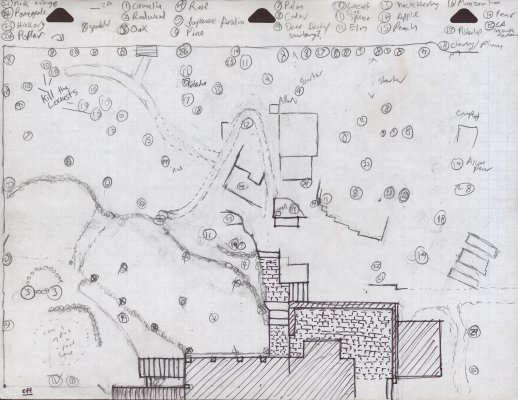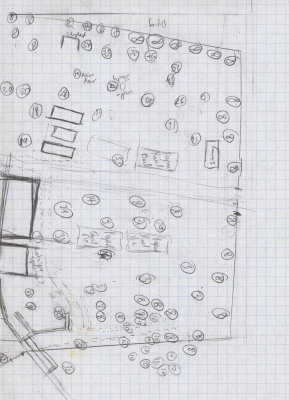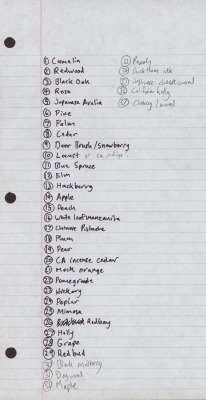 On top of improving my plant identification skills and marking certain unwelcome volunteers for death, I have been able to compile this list of projects:
Several new raised beds - in addition to the two small raised beds, I'd like to add two or three more beds to serve as productive gardens. Full sun is a bit scarce, but I've staked in some spots that should work.
Trellis under the mock orange - I currently have to duck under the lovely flower-graced limbs of the mock orange tree in order to get to the shed. I think a trellis would accent the walkway nicely-- even more so if I'm able to make the trellis myself!
Brick-lined gravel pathways + flagstone trails - there are already a few brick-lined paths that look wonderful. They also hold in gravel which serves both as a firebreak and weed control. For the more natural areas I think flagstone would be cool but maybe natural dirt paths are best.

Longshots

Dry stone wall - I adore the look of old stone walls. However I don't adore the prospect of hauling giant, heavy stones into place along the whole outline of the yard especially when there's a perfectly functional chainlink fence doing the same job. I would also likely need to buy stone given my property is pretty well cleared of rock. But think of how cool!
Koi pond - in the lowest part of the yard, beneath the shade of an oak is an aesthetically perfect location for a small-medium-sized koi pond. I've always wanted to have koi and the upside of a water feature is the ability to support plants and animals that might not otherwise make the yard their home. There's an almost-prebuilt channel that could support a feeder stream and its proximity to the house means water and electrical hookups would be simple. Unfortunately, California is drought prone so it wouldn't be cheap or ecologically smart. On top of that, the pond would likely be digging into the root system of two beautiful, old black oak trees. These trees do not do well with excessive moisture and would not bring me joy if they were to give up the ghost and fall into the living room.
Often what helps me fall asleep at night is thinking about the approaches I could take to these projects. Well before I have researched just what goes into the completion, it's the ideation about what it could look like. It's a refreshing optimism that I never had when renting an apartment in a metropolitan city. It's the opportunity to will a landscape into existance (with the help of some back breaking labor and trips to the hardware store). I do hope to pay back the great fortune I've been given with this space by providing for a space for local flora and fauna to thrive as well as they may. But the tomatoes are for me, okay?
Finally
This all just goes to say, if you want a second job that's as far away from computers as you can get, find a piece of land that you can care for. As it was said "The best part about having a garden is putting 100+ hours of labor into $40 worth of produce." But goddamn if it isn't the most gratfiying produce you'll ever have.
Post-script: Books
Just wanted to call out a couple of books that have been incredibly useful resources for me.
Western Sierra Foothills Garden Guide - put out by the UC Master Gardeners of Nevada County. There are many similar groups like them. I'd recommend anyone interested in gardening to find their local program for advice on growing plants in their area.
Sunset Western Garden Book - I found my copy at a garage sale. In fact they seem to be all over. Probably because they are awesome and cover most of the basics of caring for plants in the western US.
Nevada County Weed Booklet - a booklet for the other kind of Nevada County weed. I'd imagine most governments put out similar booklets to help people identify and eradicate invasive plants.
Botany of Desire - not that practical but lovely to listen to while out mucking about in the garden. Goes well with the Greek mythology content I've been reading as well!
And to those that have gone as of yet unread-- the one on trellises, the one on fence building, the one on riparian forests, the many dozen of reference books on the shelf-- I'll read you some day soon.